*NEW* ONE-DAY FALL ART DRIVE EVENT
Saturday, November 9, 10am-3pm
Fall Art Drive 2019 – 17 artists in 9 locations:
Sarah Daughn, Deb Ehrens, Gay Gillies, Marty Keating, Vidar Haaland featuring Caroline Unruh & Sarah Unruh, Sandy Hall featuring Beverly Carter, Michael Hubert featuring Jim Sears, Barbara Purdy featuring Amy Thurber & Liz Howland, Michael Walden featuring Nancee Meeker & Susan Strauss
Seventeen Art drive artists will be sharing their work in nine different Art drive locations.  (Not all studios are meant for cold weather, so artists have partnered up for this event.)  Click on the map page to view the list of open studios. Be sure to download the printable map!
ARTIST TALKS AND DEMONSTRATIONS
Saturday, August 10
11am: Gay Gillies
Gay will give a brief demo of her Fresco technique and discuss her bronze sculpture and paintings.  *Guests should park on the left side of the driveway and enter through the tall hedged garden.*
1pm: Amy Thurber
Amy will demonstrate the process of hand building with stoneware clay using leaf impressions.  Discussions include choosing plant material, glazing techniques, and how natural forms inspire her artwork.
3pm: Barbara Purdy
Barbara will demonstrate how to use glass grit to create texture and imagery on clear glass.
Sunday, August 11
11am: Michael Walden
Flexibility in the Trace Monotype: Michael will demonstrate how he uses the process of trace monotype as a way of exploring composition.
1pm: Moon Tide Dyers – Abbie Chambers
Abbie will be demonstrating a few of the hand dyeing techniques used in creating Moon Tide garments.
3pm: Wendy Goldsmith
Wendy will demonstrate a variety of techniques used to hand build functional pieces and create images on clay.
COMMUNITY PARTNERS AND EVENTS
the Art drive Preview Exhibition
The Art drive Preview show at the Dartmouth Cultural Center will coincide with Padanaram Days – an arts & crafts street festival that brings hundreds of people to the village – on Saturday, July 27. There is a free shuttle that will bring people from off-site parking at St. Mary's Church nearby to Padanaram Village. Passengers will be dropped off right in front of the Cultural Center! This exhibit is a great chance for the community see what Art Drive artists will be featuring in their studios during the Art Drive, and all works will be for sale. 

Dartmouth Cultural Center at Olde Southworth Library
404 Elm St. Dartmouth
Friday, July 26
5-7pm (reception)
Saturday, July 27
10am-4pm
Sunday, July 28
11am-4pm
Padanaram Chamber Music Festival
The mission of the Padanaram Chamber Music Festival is to bring world class music to summers on the South Coast and to cultivate a home for the next generation of truly exceptional artists.  These events will take place during the evenings of the Art drive.  Wrap up your studio tour with dinner at a local restaurant followed by a wonderful night of music!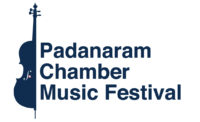 St. Peters Episcopal Church
351 Elm St. South Dartmouth
Friday, August 9 – Opening Night

7:00 – 8:30pm
St. Peters Episcopal Church

The opening night of the PCMF 2019 summer residency! Enjoy an evening of classical masterpieces followed by a catered reception and get to know the artists.
Saturday, August 10 – Music at ArtScapes 
7:00 – 8:30pm
Art Scapes Gallery, New Bedford
An evening of classics paired with modern selections against the backdrop of Art Scapes Gallery in New Bedford. Just a few minutes down the road from the PCMF home in Padanaram, this unique space and concert experience will give the musicians a chance to see more of the South Coast and allow audiences to enjoy chamber music in a variety of spaces and provide a truly unique concert experience!
Sunday, August 11 – An Evening at Olde Southworth

 Olde Southworth Library
Close out the Art drive with an evening of music and arts presented at the Olde Southworth Library and hosted by the Dartmouth Cultural Center. Peruse the work of local artists on display accompanied by chamber music performed by PCMF musicians. A less formal affair, beverages and light refreshments will be served while you enjoy the sights and sounds of summer arts on the South Coast.